Danica Patrick, Milka Duno, Sarah Fisher disappoint in Indy 500, 2007
For the first time in the history of Indy 500, there were three women in the fray-- Danica Patrick, Sarah Fisher, and Milka Duno. In the much-hyped battle between the three women who made it to the Indy 500 this year, it was Danica Patrick who came out tops in the Indy 500 on May 27, 2007.
Danica Patrick finished in eighth place, in the Indianapolis auto race at the Indianapolis Motor Speedway on May 27, 2007. Patrick who had finished fourth in the Indy 500 in 2005, was a bit out of the limelight this year compared to venezuelan glamor girl, Milka Duno. But, the gorgeous Venezuelan, who crashed out of the Indy 500 when she was at the 22nd place in the race and did not quite live up to the hype.
25-year-old Danica Patrick blamed miscues at pitstops, the three-hour rain delay, and the truncated laps because of storms. Patrick has so far made it to the top ten in the last three Indy 500s.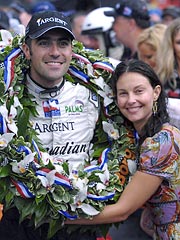 She said that she was very frustrated with the way the race went but was glad nevertheless that her Andretti Green Racing teammate Dario Franchitti made it to the top in the pouring rain. Dario Franchitti, husband of actress Ashley Judd, netted the second win for Andretti in three years.
In 2005, Patrick had been leading in the last few laps but fell behind when she had to slow down to conserve fuel. This time, she made a pitstop at lap 155 while Franchitti and the others raced ahead. Then, 34 laps were lopped off and the race ended because of the rain, blowing Patrick's pit stop strategy.
Danica Patrick had even got to second place at a point and was in the top five for a very long while, in the race. However, she lost her lead when the race was stopped for three hours and then restarted.
Sarah Fischer, who has not received as much attention as Danica Patrick and Milka Duno, finished in 18th place. She had returned to Indy 500 after a two-year gap. Fisher was the fastest woman qualifier at the Brickyard. She also has the distinction of achieving the best finish by a woman in Indy 500 when she finished second in 2001 at the Homestead-Miami Speedway.
Milka Duno, on the other hand, was stopped by a wall when she was entering turn 1 after a restart and lost control in lap 66.
All in all, it was a lacklustre performance by the three women who were followed very closely in the run-up to the Indy 500. Of course, the race itself was a frustrating one to watch, with stops and starts and safety cars on the track because of the many crashes.