Pax Thien's adoption by Angelina Jolie is legally binding, says top vietnamese official
In response to the
News of the world
report that Angelina Jolie may lose Pax Thien to his biological mother, the director of Vietnam's International adoption department, Vu Duc Long, has said that it was impossible for Pax Thien's birth mother to reclaim the three year old, according to
News24
. The official said that the adoption was totally legal and therefore could not be challenged.
Yesterday
News of the world
had reported that Angelina Jolie may lose her newly adopted son, Pax Thien Jolie since she adopted Pax Thien without his biological mother's consent.
According to the tabloid, the adoption papers of Pax Thien were signed by his grandfather and grandmother and now the grandfather, Chieng, was saying that Pax's biological mother ws a heroin addict and may do anything for money.
Apparently, the mother had Pax when she was involved with a married man who did not acknowledge Pax. The boy then ended up in an orphanage because his living conditions were so bad. Pax's grandparents have five children and could not take care of Pax.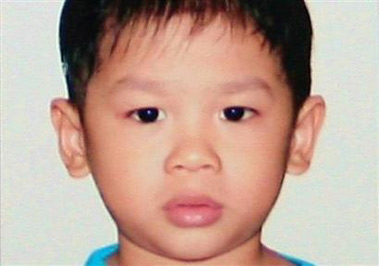 Long had approved Pax's adoption. He told
News24
that the adoption followed vietnamese law and that the biological mother had lost all claims on the boy when she abandoned him as an infant. Long added that the police had tried to search for the mother but they could not find her. He also added that Pax Thien's grandparents had never visited him in the orphanage all this time and that at the time of the adoption they were tracked down.
Earlier,
Time
magazine had reported that Pax Thien had been abandoned at birth and for 30 days signs were put up seeking the mother. However, when the biological mother did not turn up, Pax was sent to the Tam Binh orphanage.
Meanwhile, Nguyen Van Trung, director of the Tam Binh orphanage, from where Pax Thien was adopted by Angelina Jolie last week, has denied that Jolie could lose Pax.
Also,
Vietnamnet
has carried an interview with Pham Chieng, Pax Thien's grandfather where Chieng has said that they have no idea about what is being reported in News of the World. The family says that they have signed no papers for adoption. They say that they had been informed about the adoption by the Tam Binh orphanage and the HCM city department of Justice. The family also denies that Pax Thien's biological mother was involved with a married man. This account ties up with what Vu Duc Long is saying.
Early last week, Angelina Jolie and Brad Pitt adopted a three-year-old vietnamese boy from the Tam Binh orphanage in Ho Chi Minh city. Jolie looking to adopt another child had applied for a healthy boy between ages three and five. Pax Thien was the only boy at the Tam Binh orphange who met that criteria.
Jolie had signed the adoption papers as a single parent as Jolie and partner Brad Pitt are not married. Rumours are doing the rounds that Jolie and Pitt will tie the knot this Easter.
The couple already had three children; Maddox, 5, adopted from Cambodia, Zahara, 2, adopted from Ethiopia, and Shiloh Nouvelle, born last year to the couple.